First
, abo
ut re
ality TV:
IMAGINE THAT
you actually know, not one, but
TWO REAL PEOPLE
on reality TV shows! Now you probably already know that I love
Project Runway
and
Survivor
, but this year my eye has been on two other reality shows -
The Biggest Loser
and
The Sing-Off
.
I have a son-in-law on
Biggest Loser
!!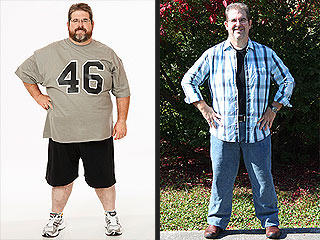 Actually he's not on right now, as he got voted off a couple of weeks ago, but if you watch
BL
at all you would remember Joe (above). He'll be back on the show for the finale, coming in December. A week ago, he flew to NYC from his home in Tennessee with his wife (my stepdaughter) and their daughter (their first time in the Big Apple) to be on the Today Show. I was busy teaching and preparing for my conference, but my hubby was able to take the train to Manhattan and got to spend a day with them. How cool is that?! Joe looks fabulous and has changed his life. It may be a TV show, but what
Biggest Loser
does for people is REAL. Congratulations, Joe!!
As for
The Sing-Off
- the finale is tonight, and one of my son's good friends from his high school class is in the
Dartmouth Aires
. This group is one of the 3 finalists! If you watch this show regularly, you might have noticed a nice-looking blonde boy in the group (on the left in the photo above) - that's Alex. We're rooting for you, Alex!
(*I should also mention, for those of you that follow college basketball, that another of my son's high school classmates was Jimmer Fredette, a BYU sensation that was a first-round draft pick for the NBA. What a graduating class!)
Ironically, my son also knew people in one of the other groups on The Sing-Off, the
University of Rochester Yellowjackets
. He just graduated from UR in May, and was pretty involved in the musical community, so he had two teams to root for on the show, thought the Yellowjackets did not last to the finals.
Now to imagining that whole new reality...
IMAGINE THAT
you've been teaching your whole adult life, and suddenly it is going to be over. This is not imagining; it is real (though it actually feels more surreal than real). It is official - after 35-1/2 years in the classroom, 26-1/2 of them in my current job, I will be hanging up my smock this June. With a 30 mile commute, a contract expiring in June, new education legislation in NY that makes me crazy, and a son that is (somewhat) financially independent, the time is right for me to retire.
I'll be packing up my belongings and moving on. By the way, the heads (above) and the
IMAGINE THAT
signs are disassembled banquet centerpieces from my recent state art teachers conference. They were being boxed up for storage or transport as I was photographing them, and I feel like the expression on the face of the Vermeer gal below could be mine, wondering what happens next.
I'm not sure what I'll be doing or where I'm headed, though you can bet I'll still be involved with art and education and kids somehow. And I expect I'll still be blogging. But beyond that, I've tossed around a few ideas, and had an unexpected idea come my way, but the truth is, I DON'T KNOW YET. It's a little frightening, as I've always been a planner, and I don't really feel old enough to retire, but my goal is to make it exciting. I suppose to begin I'll spend more time here:
(That's obviously my pretty little home, maybe a month ago. It's an in-progress photo as the trim gets repainted. We'll finish in the spring.)
Anyhow - I'm not a violent person, but I've told my husband
"if you see me in a polyester pantsuit, or a velour jogging suit with kitties, a birdhouse, or a flowerpot embroidered on the front, perhaps on my way to a chair exercise class, GET A GUN and put me out of my misery."
Seriously, folks, I plan to be very active and busy; I don't sit still well for long. However I may be looking for some advice on how to proceed. In the months to come, I'm going to be picking your brains and I hope you'll be willing to help me figure it all out!